2016 ART EXHIBITIONS
YORK STREET LOCATION
All exhibitions are included with general admission.  Stories in Sculpture: Selections from the Walker Art Center Collection is presented outdoors throughout the York Street gardens. All other shows are indoors in the Gates Garden Court Gallery. The indoor exhibitions celebrate food, edible plants and community. Opening receptions are free and the public may RSVP to exhibits@botanicgardens.org
V for Vegetables
February 25 – May 15
Victory gardens, vegetable gardens designed to produce food instead of flowers, originated with wartime food efforts but continue to thrive through home gardens, farmers markets and more. Explore the historical and contemporary graphic traditions surrounding the victory gardening movement. Seed catalogs from the Gardens' Helen Fowler Library special collections, vintage posters, advertisements and films celebrate the virtue of growing food in your own backyard, while contemporary posters by Portland-based artist Joe Wirtheim are inspired by historical gardening initiatives. Image credit: U.S. Office of War Information poster, Can all you can: it's a real war job!, 1945.
Stories in Sculpture: Selections from the Walker Art Center Collection

April 29 – October 2
Organized by the Walker Art Center in Minneapolis, Minnesota,Stories in Sculpture presents selections from the institution's renowned permanent collection. It is a special occasion to feature 13 seminal modern and contemporary sculptures in Denver while the Minneapolis Sculpture Garden undergoes the first major reconstruction project since opening in 1988. Artists presented in the exhibition include Henry Moore, Louise Nevelson, Isamu Noguchi, George Segal, Saul Baizerman, Deborah Butterfield, Barry Flanagan and Judith Shea. The exhibition will be on view outdoors at the Gardens' York Street location. Exhibition support is provided by UMB Bank, the Denver Botanic Gardens Endowment and the citizens who support the Scientific and Cultural Facilities District (SCFD).
Image credit: Judith Shea, Without Words, 1988. Collection Walker Art Center, Minneapolis. Gift of Jeanne and Richard Levitt, 1988.

Raw, Cooked, Fermented: Works by Viviane Le Courtois

May 25 – July 31
Opening reception: May 25, 5:30-7:30 p.m., Artist Talk 6:30 p.m.
Viviane Le Courtois' conceptual work centers on social engagement, often bringing people together around food. Tinged with humor, her self-described "series of experiments" addresses the essence of grown ingredients, the communal nature of eating and the role of chance in everyday life. Raw, Cooked, Fermentedis a new body of work created by the French-born, Denver-based artist for the Gardens' exhibition. Details about participatory events throughout the run of the exhibition will be announced later
Image credit: Viviane Le Courtois, Peppermint (detail), drawing with ink and crushed mint leaves, (from the installation Tea Time), 2012.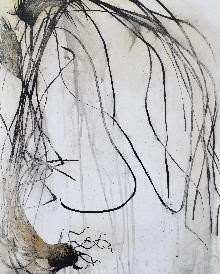 From the Garden: Works by Heidi Jung
August 10 – November 6
Opening reception: August 11, 5:30 – 7:30 p.m., Artist Talk: 6:30pm
Denver-born artist Heidi Jung's fascination with plants and insects began at an early age and serves as inspiration for her work. Trained as a photographer, key elements in her work are light, detail and movement. The mystery and ferocity of nature is represented in a new body of work done in ink and charcoal on Mylar that showcases edible plants from her home garden, as well as images from photographs taken at Denver Botanic Gardens. The exhibition is organized in collaboration with Michael Warren Contemporary, Denver
Image credit: Bev Johnson, Vitis vinifera (detail),  colored pencil, 2015.
Edible: Botanical Art & Illustration
November 20, 2016 – February 12, 2017
Opening reception: November 20, 1-3 p.m.
This annual juried exhibition from the Gardens' School of Botanical Art & Illustration features the students' best achievements in a variety of media. The theme for this show is edible plants and highlights the artists' technical skill and botanical knowledge.
Image credit: Bev Johnson, Vitis vinifera, colored pencil, 2015.